UniWakeUp
UniWakeUp is an utility for programming the RTC wakeup clock in Bios.
Inspired by nvram-wakeup and CmosTimer.
Since Cmosrtimer is only supported until XP32 Bit, UniWakeUp now
support: Windows XP / Vista / 7 32 &64Bit
(This tool use InpOut32 from http://www.highrez.co.uk/)

For configuration you need to use CmosTool !
MOST IMPORTANT:
If you find this tool useful, please make a donation @ http://www.rg-software.de !
"Universal wake up" is only free for home use! For any other use (commercial use) contact me !!!
Before the first usage run "InstallDriver.exe" to install the necessary dll.
This requires administrator rights. You will be asked for it.
!!! Important !!!
This tool writes to the CMOS area of you main board !
I'm not responsible for any damage / misconfiguration on your hardware !!!
If you have problems you can use the Clear CMOS Jumper / Button on
your main board to set everything to default !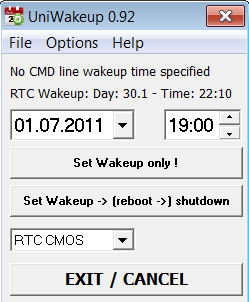 UniWakeUp can wake up your system via 4 Modes:

RTC CMOS : Uses CMOS RTC wakeup function of the BIOS (configure your settings bofore using it !)
Standby ACPI : Uses ACPI and Standby mode of the system if available
Hibernate ACPI : Uses ACPI and Hibernate mode of the system if available
Y.A.R.D. Timer : Uses Y.A.R.D. to wake up system (Timer1 or Timer2)

Usage:
CMDline Parameters:
/off
Just Shutdown/Standby/Hibernate the system - no automatic wake up. RTC wakeup will be disabled.

/offonly
Only RTC mode: Same as /off. No automatic reboot is made if necessary

/wakeup=31.12.2000 12:00
Set wake up time - Long format: DD.MM.YYYY HH:mm

/wakeup=+x[h,m]
Set wake up time - now + x hours or minutes examples: /wakeup=+4h; /wakeup=+15m
Do not use less then 5 minutes if you need a reboot for your system

/wakeuponly=31.12.2000 12:00
Just set wake up - No shutdown/sleep/hibernate.
You have to put your system to the selected wake method manually !
Additional for RTC mode: No automatic reboot is made !

/wakeuponly=+x[h,m]
see /wakeup=+x[h,m]


You can use command line or select date and time and set wakeup time directly via GUI.

RTC remark:
Config your settings with CMOSTool or CMOSConfig (CMOStimer)
If you use CMOStimer you have to import the settings: Menu -> Options -> Import CMOStimer settings

Since most RTC CMOS wake up uses only "day", you can not set a wake up time > 1 month in future !!
This is a limitation of the System Bios, not of this tool.

Remarks:
RTC / Y.A.R.D.: Windows Autologon is required !

ACPI: Disable Screensaver - Disable password for resuming !
myConn v1.00

myConn is a online counter with some powerful features.
Main featuers:
- Online counter / Transfer counter
- Multi language support
- Hardware-Router support
- Support for DynDns www.dyndns.org
- Warnings with "0190 / 0900" numbers
- Time (current and whole time) and max transfer warnings
- All IPs you are currently using are shown
- Statistics for all your connections
- Shows your current transferrate in kb/s
- You can show your online time in a small window or in the System Tray
- Automatic reconnect
- Anti Idle (to stay online with some Providers)
- Start defined programs when your are going online
- Auto connect (specifiy when you want to go online)
- Auto disconnect (specify when you want to go offline, also windowmonitoring is possible)
- XP Menu support
There is no documentation at the moment.
If you have problems, please send a mail !


History:
v1.00
Fixed some bugs
v.099y
Some internal fixes
v0.99x



 

Fixed some Counter bugs (W9X)
Added Hardware-Router support (SMC7004ABR not supported now),
make your entries in Preferences and change to Router Mode
Added Dial-Up / Router / Network Mode
Removed CPU Priority
Bugsfixes and changes
v0.99v
Too many changes :-)
v0.98
First beta release
Screenshots:
XP-Style
Standard
Time and IP window /
Transferrate: Down <<..|..>> UP
Online time in Tray
Preferences